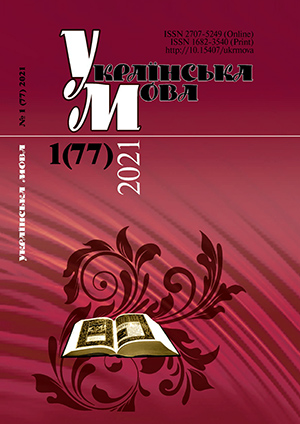 ISSN print – 23920
Subscription index – 23920
DOI: doi.org/10.15407/ukrmova
JOURNAL
UKRAINIAN LANGUAGE
Founders:
National Academy of Sciences of Ukraine, Institute of the Ukrainian language of National Academy of Sciences of Ukraine
Publisher and manufakturer Akademperiodyka Publishing House
Founded: in October 2001
Subject in the field of media registrants R30-01171
(decision No. 802 dated 31.08.2023)
Published: four issues a year
Sphere of distribution: nationwide and foreign
Readership: scientists, graduate students, teachers, students
Scientific and theoretical journal
Edition is included in the
Register of scientific professional publications of Ukraine
(Order of Ministry of Education and Science of Ukraine by № 528 of Мау 12, 2015)
Editorial board:
19 persons, 1 of them – Corresponding Member of the NAS of Ukraine, 2 Foreign Members of Academies (Poland, Slovakia), 17 – Doctors of Philology
Thematic orientation:
topical issues of modern structure, codification of the norms of the Ukrainian literary language, problems of history, social and state status of the Ukrainian language, informing the scientific and general public about the latest techniques and methods of learning Ukrainian and other languages ​​of the world

---
Rubrics of the journal
Researches
Book review
Science chronicle
Anniversaries
Information
Contributors
---
Legal documents
---
Problems
The mission of the journal is to publish the valuable papers that inform about the use of the Ukrainian in society, about a description of the theoretical issues in grammar, lexicology, terminology, stylistics, phonetics, history of the Ukrainian language, the relations between standard language and dialects, about the language culture, orthography, language policy in Ukraine and also the current problems of methodology in linguistics
The journal pages publish reviews of novelties in Ukrainian linguistics and reviews of publications that are a prominent phenomenon in linguistics. Also, the journal publishes articles on the anniversaries of prominent linguists, and highlights issues raised in linguistic forums, symposia, conferences, and congresses.
Reviewing
All articles sent to the editorial board of the Ukrainian Language journal are reviewed and edited. Journal editors take at a decision on submitted manuscripts.
On the recommendation of the reviewer (s), according to the decision of the editorial board, they are accepted for printing, sent for revision or rejected.
At the request of the editorial board, some articles are submitted with external reviews.
The journal is a subscription publication